About La Fondue
At La Fondue, we've reimagined the classic European Fondue experience, making it more elegant, exciting, and decadent than ever. Enjoy premium ingredients, from Australian lamb to Wagyu beef and farmer's market vegetables, coated with luscious broths and cheeses. Savor a world of new flavor combinations while having fun with those around you. Then, top off your evening with fresh fruit, cookies, and treats dipped in your choice of chocolate fondue.
At La Fondue, the memories you make are just as enjoyable as the flavors you experience.
FAQ
GENERAL
Where is La Fondue located?
La Fondue is located at 14550 Big Basin Way, at the corner of 4th Street in Saratoga, California.
What is La Fondue's contact information?
Call our Main Line after 4pm: (408)-867-3332
Email: info@lafondue.com
What are La Fondue's hours of operation?
We are open for Dinner Only (No Lunch hours)
Monday—Friday: 5 – 9pm
Saturday: 4 – 9pm
Sunday: 4 – 8pm
How do I make reservations?
Reservations can be made at OpenTable
or via calling our Main Line: (408)-867-3332 after 4 pm
For reservations of 9 or larger please email us at info@lafondue.com

. Please state your reservation date, time, number of guests, dietary restrictions/allergies and if you prefer a private dining room.

What is the dress code?
Smart Casual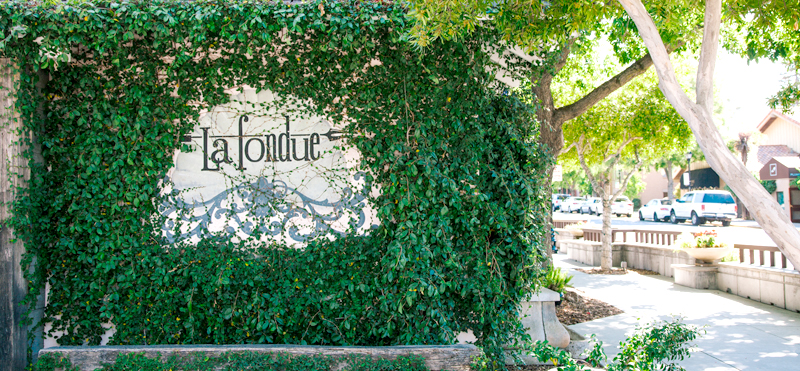 DINING AND GUEST EXPERIENCE
How would you describe the dining style at La Fondue?
Romantic, Classy-Casual, Fun; Ideal dining for Celebrations, Couples, Intimate Families
Is La Fondue child-friendly?
Yes, we love hosting families and allowing our younger guests to experience our cuisine. For your safety we are not able to permit strollers, high chairs, or booster seats. We recommend parents give special attention to our youngest guests as high temperatures at the table are a regular part of our dining experience.
Does La Fondue allow dogs?
Well-behaved dogs are welcome on our dog-friendly terrace!
Can I come in just for Chocolate Fondue dessert?
As of September 1, 2015, we no longer offer orders of ONLY Chocolate fondue. Please join us for a 4-Course Dinner.
What is La Fondue's Corking Policy?
Our corkage is $30 per 750ml bottle.
Does La Fondue sell gift certificates?
Gift certificates are available on our web site or in person. Please treat them the same as cash. We are not responsible for lost, stolen or misplaced gift cards.
What is La Fondue's policy for seatings & walk-ins?
Due to the 2 hour dinner time, your entire table must be present at your reservation time in order to be sat together. Late arrivals (15 minutes) after the original RSVP time may result in a canceled reservation to accommodate seating for walk-in guests.
Where can I park?
Park on either side of Big Basin Way or benefit from our Valet Parking Service.
Do La Fondue offer special, Prix-Fixe dinners?
Mother's Day, Valentine's Day, Christmas Eve, and New Year's Eve are Special Prix-Fixe dinners, please call ahead for details.
Is La Fondue open or closed on holidays?
We are closed July 4th and 5th, Thanksgiving, Christmas Day, and Super Bowl Sunday when the Niners play!
CAREERS
Join our team! Send your resume and the following application form to info@lafondue.com.