La Fondue offers a unique fondue experience serving over 50 different types of fondues. We offer a "chill out" dining experience, a little bit glamorous, a little bit classic. Try our Wild Game, Kobe Flat Iron, or Private Reserve Filet Mignon cooked in one of our 5 cooking methods. Then top off your evening with a decadent chocolate fondue dessert!
"La Fondue Ranks amongst the Top 16 Romantic restaurants in the World".

La Fondue has received several " Best Of " categories including: "Best Restaurant, Most Romantic Restaurant, Best Special Occasion Restaurant, Best Ambiance, Most Booked Restaurant, Best of the Bay Area, Best of Silicon Valley, and Best French Restaurant."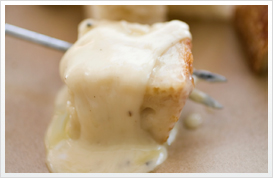 La Fondue Ranks amongst top restaurant reservation applications world wide.
From Garden Vegetables to Wild Nilgai Antelope, La Fondue has a veritable cornucopia of delectable, decadent and dippable delights! And with 5 methods of cooking, you're sure to find the perfect combination to excite your pallet.