About La Fondue
La Fondue is located at 14550 Big Basin Way at the corner of 4th Street in Saratoga. The restaurant's interior reflects a new interpretation of European design that avoids cliché interpretations. La Fondue offers a unique fondue experience serving over 50 different types of fondues served tableside. We offer a "chill out" dining experience, a little bit glamorous, a little bit classic. Try our Wild Game, Kobe Flat-Iron, or Private Reserve Filet Mignon cooked in one of our 5 cooking methods. Then top off your evening with a decadent chocolate fondue dessert. Mood and food at its best.
Dining Style: Romantic/Smart Casual/Fun/Celebrations/Couples/Intimate Families
Child Friendly: We strive to maintain a level of ambiance that enhances the dining experience — we ask parents of children to help maintain this ambiance. Because of limited space, strollers, high chairs or booster seats are not permitted in the restaurant.
Reservations:
Open Table
Main Line: (408)-867-3332 after 4 pm
Dog-friendly terrace!
Email: info@lafondue.com
Hours of Operation: Dinner Only (No Lunch hours)
Wednesday – Friday 5 – 9pm
Saturday 4 – 9pm
Sunday 4 – 8pm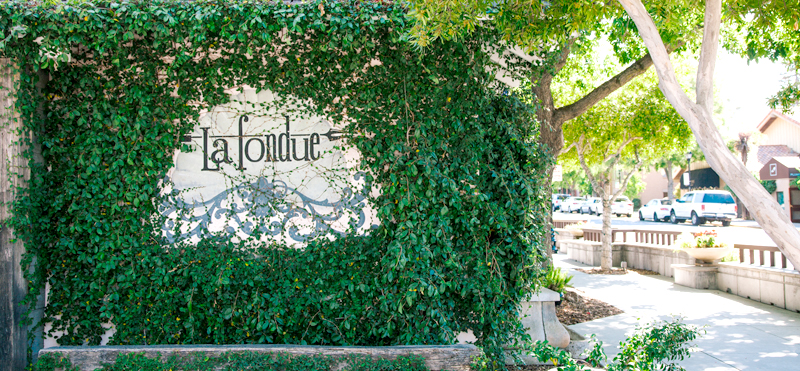 Chocolate Fondue Dessert Only:
As of September 1, 2015, we no longer offer Chocolate ONLY fondue. Please join us for a 4-Course Combination Dinner.
Corking Policy
Our corkage is $30 per 750ml bottle.
Dress Code: Smart Casual
Gift Certificates: Gift certificates are available on our web site or in person. Please treat them the same as cash. We are not responsible for lost, stolen or misplaced gift cards.
Seatings & Walk-Ins: Due to the 2 hour dinner time, your entire table must be present at your reservation time in order to be sat together. We do not hold tables and may free up late reservations (15 minutes late) for walk-ins.
Parking: Parking on either side of Big Basin Way or use the Valet Parking Service.
Mother's Day, Valentine's Day, Christmas Eve, and New Year's Eve are Special Prix-Fixe dinners, please call ahead for details.
Closed: July 4th and 5th, Thanksgiving, Christmas Day & Superbowl Sunday when the Niners play!